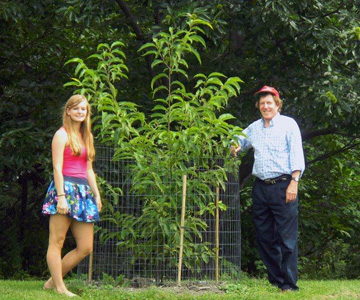 From the November-December 2011 issue of Cornell Alumni Magazine: "Biologist-administrator Marshal Case ['63] not only isn't retired, he's in the very thick of helping plan a more hopeful future for Afghanistan, having been appointed to a five-member advisory council, Global Partnership for Afghanistan, that promotes trees as profitable crop investments for Afghan farmers, who comprise 80 percent of the country's population. Already, he writes, some 10 million cash crop trees have been planted. The council is also focusing on efforts to upgrade the lives of Afghan women. Marshal, who still lives in Shaftsbury, VT, also helped in the production of two documentary films in Puerto Rico: one on shade-grown coffee, the other on saving neotropical migrant birds of North and Latin America."
At right is Marshal with his daughter Michelle.
Marshal Case '64, president and CEO of the American Chestnut Foundation, is on a mission to restore American chestnut trees to the eastern forests. His work allowed him to collaborate with President George W. Bush and former President Jimmy Carter, who have been active with the conservation effort. President Bush asked to have an American Chestnut planted at the White House for Arbor Day (April 29) 2005, and Case (right) joined him and Secretary of Agriculture Mike Johanns for the event. Case spent some time with the President before the tree planting on the North Lawn. This year, Case also joined Carter at the Carter Center, where his foundation planted chestnut trees.
[The Record Fall 2005]