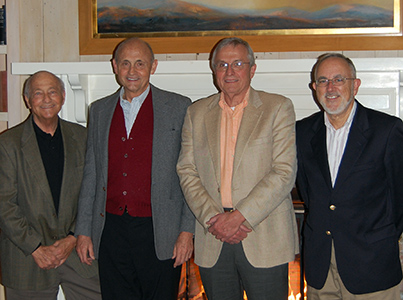 Curtis Reis '56, Art Geoffrion '59, Hal Sieling '62, and Ron Demer '59 gathered in Santa Monica in November 2011.
I went to Los Angeles and San Francisco for Cornell events this past November, and was well-treated by several brothers. Art Geoffrion '59 met me at LAX and took me to the new J. Paul Getty museum for lunch and a visit. It is a moving and magnificent place. I particularly enjoyed the architecture by Richard Meier, a great Cornellian ('56) although not an SAE. We then went to Art's beach club in Santa Monica for dinner with his wife, Helen; Hal Sieling '62; and Pamela and Curt Reis '56. The Reises hosted me at their lovely Palos Verdes home. A few days later, I flew to the Bay Area. Britt Stitt '58 changed the driving directions to his Tomales Bay home, and I found myself at a small airport in Novato instead. Britt appeared, we hopped into a Piper Cub, and he flew all over northern Marin County and the
seashore—a memorable experience. I had a wonderful visit with Britt and Susie, whom I recall meeting in 1957 when 1958 SAEs (Britt, Cal Allen '58, Larry Tracy '58, and Al Stout '58) and I went skiing at Stowe, lodging at the Round Hearth Inn. Susie taught me not to sit on the T-Bar and escorted me down the beautiful Toll House Road. On the way to the airport, I stopped in Greenbrae to see Dave Hugle '56. Unfortunately, I only had time to see a small part of his extensive collection of modern art. SAEs made this a great trip. Thanks to you all.
Phi Alpha,
Ron Demer '59
rondemer43@gmail.com