GENEVA – Bruce R. Teague, 63, of Orchard Park Drive, passed away on Sunday (May 12, 2013) in his home surrounded by his family. Friends may call at the DeVaney-Bennett Funeral Home, 181 N. Main St., on Wednesday (May 15, 2013) from 2 to 4 and 6 to 8 p.m. Funeral Services will be at 9 a.m. on Thursday (May 16, 2013) in the funeral home and at 9:30 a.m. in St. Stephen's Church. Burial will be in St. Mary's Cemetery.
Memorial contributions, in his memory, may be made to Ontario Yates Hospice, Our Lady of Peace Parish or the Roswell Cancer Institute Elm and Carlton Sts. Buffalo, N.Y. 14203 for Childhood Can cer Research, Buffalo, N.Y.
Bruce was born in Geneva and was a lifelong resident. He was the son of the late Robert N. and Julanne Reed Teague. He graduated from Geneva High School in 1967 and Cornell University where he was on the first National Lacrosse Cham pionship Team in 1971. He received the most improved player of the year in his junior year and received the Phillips Award in 1971 and was selected to play in the North South Game in 1971. He continued his love for Lacrosse by being a referee for over 35 years in both High Schools in Section-Five and on the Collegiate level refereeing the NCAA Division 3 Finals and the semi Finals in Division 1. He was a founding member of the Inter Collegiate Lacrosse Official Association. He was inducted in the Geneva Sports Hall of Fame in 1996, where he served on the committee for several years and in the Rochester Chapter of US Lacrosse in 2006. He started his career in the insurance business in 1973 when he joined Henry and Shepherd Insurance Co. and became President of Henry Shepherd Smith Inc. until he became the Managing Partner of Finger Lakes Partners when they began in 2007. Bruce was extremely active in the Community where he served on the Board of Directors of the National Bank of Geneva for over thirty years; was the Chairman of the United Way Campaign in 1981; was a founding member and treasurer of the Finger Lake Chapter of Ducks Unlimited; former member of the Board of Trustees of Finger Lakes Health; a member of the Board of Directors of Ontario ARC; longtime member of Seneca Yacht Club; a member of the Geneva Kiwanis Club; former member of the Geneva Scholar Associates of Hobart and William Smith College; past Presi dent of Geneva Chamber of Commerce; former member of Geneva Growth; a member of SAE Fraternity of Cornell Uni versity. Bruce was a lifelong member of Geneva Country Club where he was an avid golfer, former Senior Champion and Past Presi dent. He was an avid Penn State Fan in all sports. He was a member of Our Lady of Peace Parish.
He is survived by his wife, Beryl Mulvey Teague; his son, Bruce R. (Sandy) Teague Jr. of Stanley; his daughters, Tiffany (Tim) Cohrs of Geneva and Beth (Brian) Mabry of Orchard Park; two brothers, R. Neilan Teague of Seneca Falls, and Gary (Ruth) Teague of Staten Island, N.Y.; a sister, Leslie Harter of Rochester; his brother-in-law, David G. Mulvey of Geneva; nine grandchildren, Kacie Harris, Hay den and Gavin Teague; Beth, Leo and Teagan Cohrs; Reed, Pierce and Isla Mabry; several nieces and nephews.
Bruce Teague '71 inducted into Rochester Chapter of US Lacrosse Hall of Fame
Brother Bruce Teague '71 was inducted into the Rochester Chapter of US Lacrosse Hall of Fame as a player and official.
"The player portion had been documented previously, and the official piece recognized 18 years of selection in the NCAA tournament and an equal number in the NYS tournament, with seven times doing the NYS Finals. In the NCAA, I have done the D-3 and junior college finals, as well as the D-1 semi finals. Also, the north/south senior game once in each of the last four decades. There is something to be said about longevity! I have retired from the high school game but still carry a full college schedule that will include Penn vs. Cornell in March."
On a personal level, Bruce notes that he carries a six handicap in golf and that he sees Tony Treadwell as a role model for golf. "He was at the house when I was after his tour in the military, and I followed his senior career with great interest."
Laxmen Win NCAA Crown
From Cornell Reports, June 1971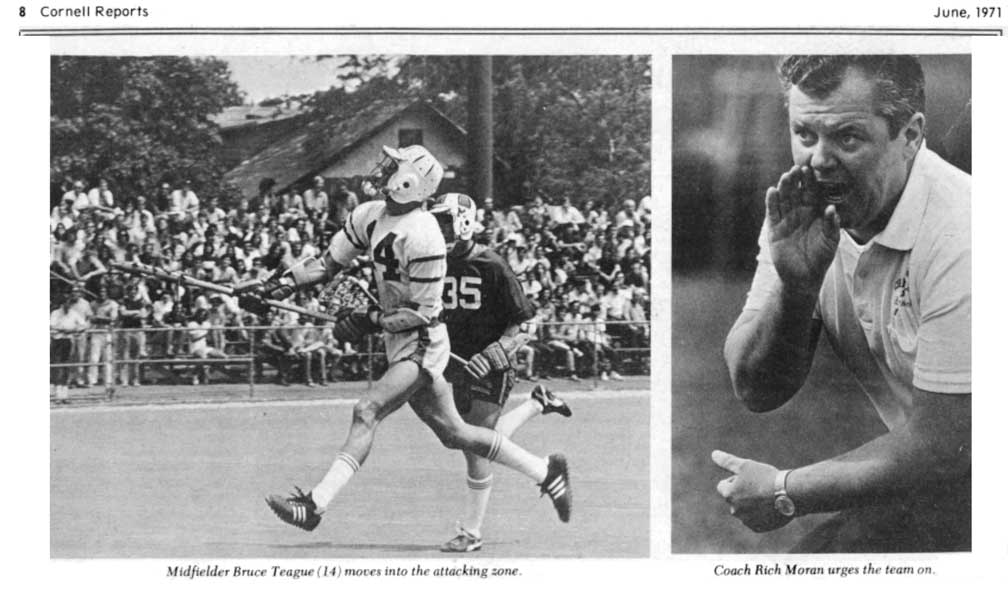 A Canadian attackman who set records in another country and a Long Island goalie who gave his finest performance just a few miles from his home were instrumental in leading Cornell to the NCAA lacrosse championship over Maryland, 12-6, on June 5.
When the final whistle sounded and the Big Red–had copped the first official NCAA title in lacrosse, it was Al Rimmer, the record-setting senior attackman from Toronto, and Bob Buhmann, the reserve goalie from Seaford, N.Y., who were the heroes at Hofstra Stadium in Hempstead, N.Y.
Rimmer, from whom the sensational is expected, fired in six of Cornell's 12 goals. He concluded his collegiate career with the all time Cornell record for total points on 80 goals and 82 assists for 162 points.
Cornell never trailed in the game. Rimmer fired in a goal after only 59 seconds had been played and though Maryland was able to tie the score at 1-1 and 2-2, the Terps posed no real threat after the first period.
The goal that put Cornell ahead for good was produced by Coach Richie Moran's third midfield. With 7:47 to go in the first period, Bob Wagner, a senior from Newton, Pa., scored off an assist by Craig Bollinger, a junior from Rochester, N.Y.
Rimmer then took command and racked up three straight goals. Frank Davis, a junior from Sanborn, N.Y., and Bucky Gunts, a junior from Baltimore, Md., finished up Cornell's string of six goals.