Bray Named To Indian Hall of Fame
(from the 1981 Record)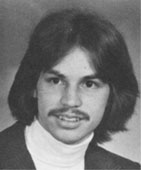 David Bray '77 has been inducted into the American Indian Athletic Hall of Fame. He is a member of the Seneca Nation.
Bray, who grew up on the Cattaraugus Reservation, was a member of the All-Native American team that competed in the International Lacrosse Tournament in Vancouver, British Columbia, last summer.
Bray played field lacrosse at Cornell and helped establish the team as the Ivy League champions his first two years and as the undefeated National College Champions his last two years in school. Bray is administrator of the Seneca National Vocational Education Program.