published in The New York Times, by Jim Dywer
Kirin Holdings to take 20 stake in Brooklyn Brewery
a book review of The Craft Beer Revolution by Steve Hindy
March 2014 "Free Craft Beer" by Steve Hindy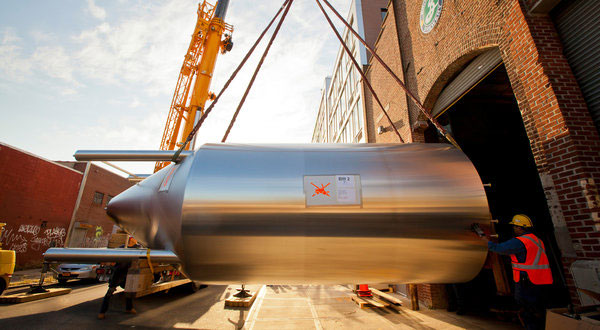 At work in Cairo during the early 1980s, Steve Hindy found himself drinking beer that had been brewed at home by other American expatriates. They had picked up the skill living in parts of the Middle East where alcohol was banned. It was pretty good, and Mr. Hindy learned to make it himself when he and his family moved back to New York in 1984. Their old neighborhood on the Upper West Side of Manhattan had gotten too expensive, so they found a two-bedroom apartment in a part of the city that a family with young children could afford. It was Park Slope.
Four of the fermentation tanks in place at the Brooklyn Brewery.
An upstairs neighbor, Tom Potter, liked the home brew, which he shared with Mr. Hindy as they watched the Mets in the transcendent baseball season of 1986. Why not make small batches of craft beer and sell them around the city? The next year, against a lot of advice, Mr. Hindy gave up a job as an editor at Newsday, and Mr. Potter left banking.
In 1988, they began by making a single premium beer brewed according to a Bavarian purity law from 1516, with no additives. Production would be done under contract with a brewery in Utica, in upstate New York.
They called it "Brooklyn Lager."
"In the beginning, we drove beer trucks all over Brooklyn," Mr. Hindy, 63, said. "In Bay Ridge, I ran into the attitude — 'If this stuff is so good, why did you name it Brooklyn?' "
This week, the Brooklyn Brewery founded by Mr. Hindy and Mr. Potter is installing eight giant stainless-steel fermenters that reached North 11th Street in the Williamsburg section of Brooklyn after a one-month journey from Bavaria. Each fermenter should be full by Christmas, each able to make one million pints a year. This will allow the company, which also continues to brew in Utica, to double its production. About 35 new employees have been hired.
When they first set up shop in Brooklyn more than two decades ago, Williamsburg was filled with industrial shells, some still functioning, others used by artists who were refugees from the high rents of SoHo in Manhattan. Now the Wythe Hotel, humming down the block from the brewery, occupies and former textile factory and cooperage. "When we moved in, the warehouse was $3 a foot," Mr. Hindy said. "Today, you'd be lucky to find anything for under $20 a foot."
They took over a Dr. Brown's Soda bottling plant, then a matzo factory, were robbed at gunpoint, hunted down a forklift charger that had been stolen by a junkie, and worked on streets that were barely breathing by day, and desolate by night.
It helped that Mr. Hindy had spent six years in the Middle East as a correspondent for The Associated Press, covering wars and mayhem. In October 1981, he was seated in a military reviewing stand in Cairo, not far from the president of Egypt, Anwar el-Sadat, when Mr. Sadat was shot to death by soldiers parading past him. Mr. Hindy was kidnapped in southern Lebanon with two United Nations peacekeepers from Ireland who were tortured and killed. The wooden door on the family home in Beirut was shot up with machine-gun fire.
So he could deal with Brooklyn. Part of their marketing scheme was to make their neighborhood a destination, to capture a hip tone that was not yet widely heard or felt.
"In early 1996, Williamsburg was still a sketchy, industrial area," Eric Ottaway, the general manager for the brewery, said. "It was stark. You'd open the doors for an event, and no one would come in."
"Now," he added, "we open the doors, and people are lined up down the block."
Mr. Ottaway, 43, met Mr. Hindy when he was 12 years old in Egypt. His father, David Ottaway, a correspondent for The Washington Post, had been seated next to Mr. Hindy during the Sadat assassination. The Ottaway family had considerable wealth in newspaper holdings, and when the brewery was considering a public offering, they came in as private investors. They eventually bought most of Mr. Hindy's stake, keeping him on as the company president, and all of Mr. Potter's. (He has opened a distillery five blocks away, with Mr. Hindy as an investor; they are co-authors of "Beer School," a frisky, compelling account of how they built the business.)
On three sides of the corner where the company has its warehouse, North 11th and Berry Streets, apartment buildings have replaced small manufacturers. Running against this tide is a brewery that just doubled it size.
"Brooklyn is a fantastic place, recognized all over the world, an almost mythical place," Mr. Hindy said. "It has turned out to be a great name for a beer."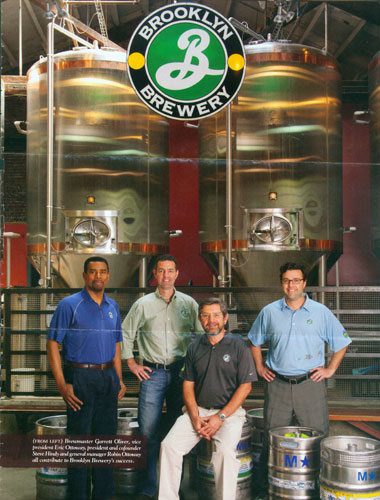 Brewmaster Garrett Oliver, Vice President Eric Ottoway, President and cofounder Steve Hindy, and General Manager Robin Ottoway all contribute to Brooklyn Brewery's success.
Brother Hindy's company, the Brooklyn Brewery, was featured in the July/August 2012 issue of Market Watch!.Click on the image below to read the whole article.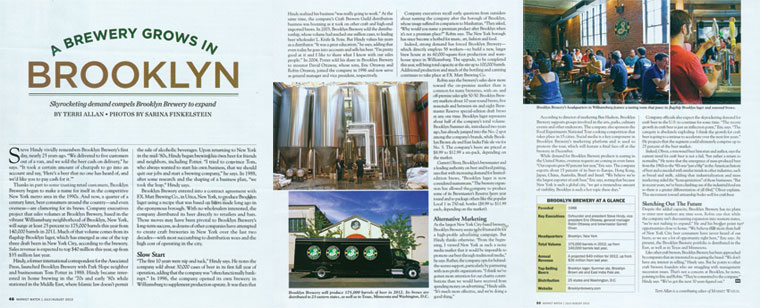 A quick look at the Brooklyn Brewery
(from Business Week)
Brooklyn, N.Y.
Employees: 34
2007 sales: $18 million
Brooklyn Brewery doesn't try to compete with beer giants on advertising. Instead, the craft brewer focuses its marketing around community events and arts organizations, says President Steve Hindy, who co-founded the company in 1987 with Tom Potter.
"This earns us lots of goodwill and plenty of quality sampling of our fine Brooklyn-branded beers. We try to make sure the Brooklyn 'B' is prominent at all events," Hindy says. In their book, Beer School, Hindy details how he convinced Milton Glaser, the legendary designer of the "I Love NY" logo, to create the now famous "B."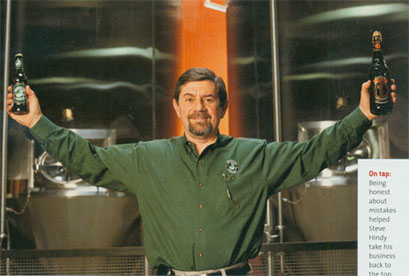 Steve Hindy '71
Brother Hindy, co-founder of Brooklyn Brewery, was recently featured in Entrepreneur magazine. Click here to read the full story.
The Brooklyn Brewery was also recently featured in a New York Times article. Read it, here.