By Hal Sieling '62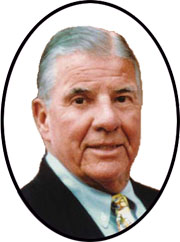 Furman South III '43 has been involved with New York Alpha for more than 50 years, but his connections go back much further. While at Cornell, Furman was an active player at SAE. He was part of an undefeated crew team and was a house officer as well. In the late '50s and '60s, he was president of the New York Alpha Alumni Association, and he has been a generous contributor of time and money ever since. He was a member of the last alumni board before the house was given over to Cornell. Other association members during his era were Robert Laughlin '49, Thomas Fennell '26, James Tate '52, and of course, Fairbairn Gilkeson '14.
His father, Furman South Jr. '12, was also an SAE in the same era as Fairbairn Gilkeson '14, our longtime chapter advisor and the 2005 recipient of the True Gentleman of New York Alpha Award. Furman Jr. was also a longtime alumni board president, and he drove to Ithaca in his Model A with Furman III by his side more than 70 years ago. Two of Furman's sons, Hank '69 and Cawood '71, were also NY Alpha brothers, as was Cawood's son, R.L Cawood South '95. Furman's sister was a member of the class of '48. His brother, Richard '46, was also an SAE.
After graduating in 1943, Furman spent three tough years in the Pacific (Okinawa and Korea) during World War II. He then returned home to Pennsylvania in 1947, where he and another SAE went to work for Furman Jr. Eventually, he ran LAVA Crucible-Refractories Company near Pittsburgh, a company specializing in refractories for the steel industry. He also ran Saxonburg Ceramics, which manufactures ceramics for the electronics, heater, and appliance industries. He still is chairman of Saxonburg, but Lava was sold. He has also been involved with American Paper Products, a church mailing service, Zircoa Corp., and a few other manufacturing companies over the years. His civic activities include being on the board of Pittsburgh History and Landmarks. He still comes in to work several days a week.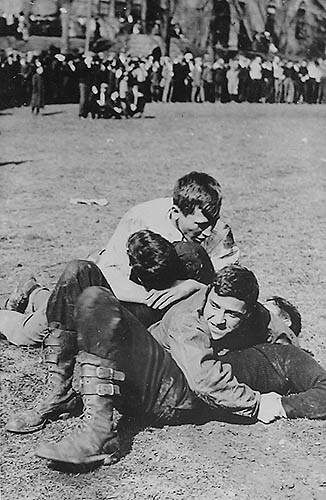 One positive memory of his was the addition built during the time he was president of the alumni association. Not so positive was the debt incurred to build the addition and the actives then failing to pay the bills–which eventually led to Hillcrest's being turned over to Cornell. "It is not always easy keeping things going in a positive direction but eventually, if you work hard and pull together, they will turn for the better."
His favorite memories of Ithaca are rowing on Lake Cayuga, plenty of beer, and lots of longtime friends from Cornell, the crew, and of course, SAE. Another great memory was the cross-country train ride in a private car in 1983 to attend his 40th reunion with several other classmates and wives. Furman served Cornell as a council member and trustee of the rowing association. He also recruited students from the Pittsburgh area and was active in the Cornell clubs there. His involvement with Cornell and the crew continues. After a recent regatta at the Head of Ohio races in Pittsburgh, he hosted a party for the men's crew at his house with a dinner and live music. He has held similar events for both men's and women's crew teams for a number of years.
Furman never misses a Cornell reunion, and we hope to see him for his 65th in 2008. In 2004, he married a lovely lady, Frances, a Canadian from Montreal. His previous wife of 50 years, Kay, mother of his children, passed away in 2001. You can write to Furman South at Windward Farm, Backbone Rd., Sewickley, PA 15143.
A Speech Recognizing the Efforts of Furman South III
After spending so many years involved with Hillcrest, it is hard to believe we could have been outdone.
But, there is one brother here today who has been involved with Hillcrest for longer than most of us have been alive.
That brother is none other than Furman South III who has been coming to Hillcrest for more than 70 years and has been active in the chapter for more than 50 years. Yes, I am serious that Furman came here as a passenger in his dad's car when he was just a boy.
He grew up in this place, was active as an officer and crew member while attending Cornell in the early 1940s and led the alumni board into the early '60s. Furthermore, he has never missed a key reunion.
Furman remains a significant contributor of funds and time to Cornell and SAE up to this very day.
Two of Furman's sons, his father, and his brother were SAEs as was one grandson who I hope will join the board one day soon.
Furman was a crew member of an undefeated team at CU and continues to host crew members when they are in the Pittsburgh area.
Furman led the alumni board from shortly after WW II up to the point that Bob Dean took over and negotiated the transfer of Hillcrest to Cornell University.
As he once said, "It is not always easy keeping things going in a positive direction but eventually, if you work hard and pull together, they will turn for the better."
We hope Furman will join us again for his 65th reunion celebration next year. (Editor's Note: Furman did attend his 65th reunion in 2008.)
In the meantime, we thank you, Furman, for your numerous contributions, and are pleased you were our 2006 True Gentleman of NY Alpha recipient.