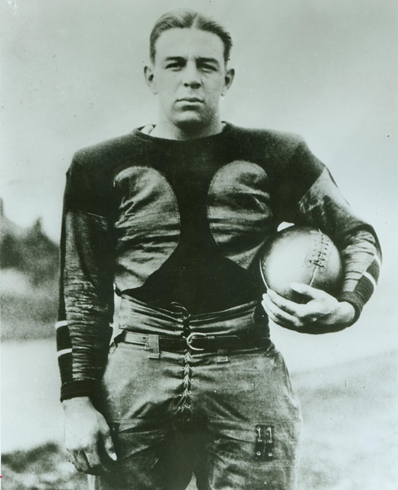 When George R. Pfann Sr., class of '24, died on December 17, 1996, at the age of 94, he was the oldest living member of the College Football Foundation and Hall of Fame.
During his undergraduate days, Pfann was a true "student-athlete" before the term came into being. He was a quarterback who led the team to 24 straight wins from 1921 to 1923, earning All-America honors as the captain in 1923. He also won three letters in lacrosse and was on the basketball squad for three years.
After graduating with honors, he continued his education at Cornell Law School for two years before accepting a Rhodes Scholarship to complete his legal education at Brasenose College of Oxford University. During his law school days on the Hill, he was an assistant football coach and was the freshman basketball mentor.
When WWII came, Pfann served in the European Theatre through the worst of the fighting. As secretary of the general staff of the United States Seventh and Third Armies under General George Patton, our George figured in the electrifying tank warfare that changed the attack from a slow, grinding "first-down" offensive to "carry-the-ball all the way" through the defenses of the opposition. He was decorated with the Legion of Merit, Bronze Star, Defender of the Fatherland, seven battle stars, and one Arrowhead (amphibious landing).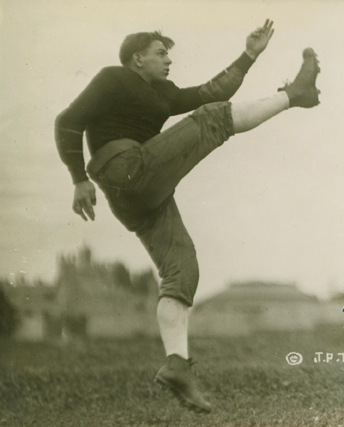 As a civilian, Pfann was general counsel for the Cooperative Grange League Federation, now called Agway, until his retirment. He was a professor at Cornell Law School and a member of the University Board of Trustees and then seved as Trustee Emeritus.
Pfann was named to the College Football Foundation and Hall of Fame in 1957 and was a charter member of the Cornell Athletic Hall of Fame. In the 1980s, Pfann could still be seen going to the Teagle Pool for his exercise. An All-American quarterback at Cornell in 1923, Pfann was short and chunky at 5-foot-9 and 172 pounds. In the single wing of his era, the quarterback was often called the blocking back, but he also had to carry the ball on plunges into the line and was sometimes used as a pass receiver.
In Pfann's three years as a starter, Cornell won all 24 of its games and scored 1,051 points against 81 for its opponents. The school's most important games were against Pennsylvania. In 1921, Pfann was featured as a blocker in front of Edgar Kaw, who scored 5 touchdowns in a 41-0 victory.
Pennsylvania was watching for Kaw in 1922 and Pfann did most of the ground gaining as Cornell won, 9-0. Kaw graduated in 1923. Pfann, captaining the team that fall, caught a 30-yard pass for one touchdown and ran 5 yards for the other as Cornell again beat Penn, 14-7.
George Trevor of the New York Sun put Pfann on the all-time All-American team he selected in 1938.
Pfann studied law after graduating and then spent a year as a Rhodes Scholar at Oxford. He became U.S. attorney for the Southern District of New York and, during World War II, was on Gen. George S. Patton's staff. He coached football at Swarthmore from 1931 through 1935.