Cornell Chronicle online, January 15, 2013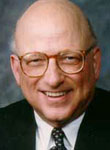 Cornell professor David Lipsky '61 is one of three faculty members who have received a Stephen H. Weiss Presidential Fellowship in recognition of their inspiring teaching of undergraduate students, President David Skorton announced at the Cornell Board of Trustees meeting in October.
"It is my pleasure to announce the new Weiss fellows, whose nominations by their students and colleagues attest to their extraordinary teaching and mentoring," said Skorton. "These three prominent educators exemplify the excellence of our faculty and its commitment to students."
Lipsky, the Anne Evans Estabrook Professor of Dispute Resolution and director of the ILR School's Scheinman Institute on Conflict Resolution, joined the Cornell faculty in 1969. Colleagues have described him as a role model for younger faculty members who combines eminence in his field with "uncommonly devoted commitment to advising, teaching and mentoring undergraduates."
Nominators cited Lipsky for his warmth and steady encouragement of students, his support for undergraduate research and his ability to "illuminate both research findings and the art of conflict management and resolution." Many students wrote letters attesting to Lipsky's generosity as a mentor.
Lipsky's work focuses primarily on negotiation, conflict resolution and collective bargaining. He has published more than 70 articles and book chapters and is author or editor of 15 books and monographs. In 1997, the New York State Senate passed a resolution honoring Lipsky "for his distinguished contributions as dean of the School of Industrial and Labor Relations [at] Cornell University."