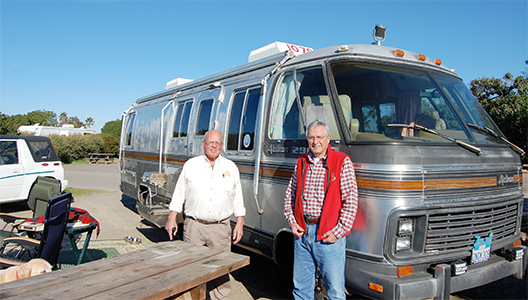 Peter Heylin '65 (and his Airstream), his wife, Linda, and their dog visited Hal Sieling '62 in California.
Peter's daughter Tera has also been traveling; she stopped at Hillcrest during a cross-country trip to visit the lions in front of the house that her parents donated (see photo).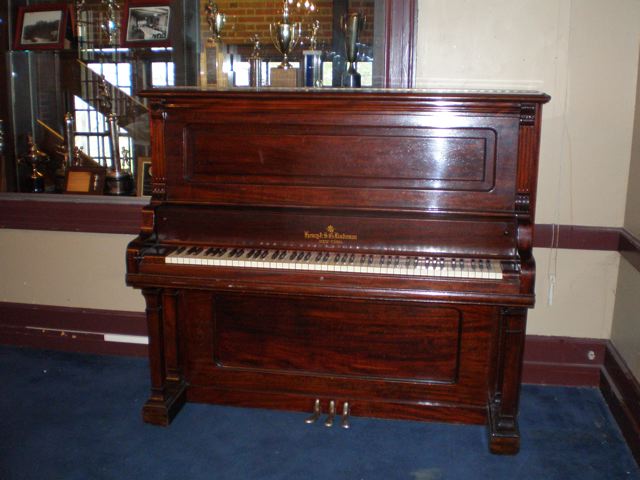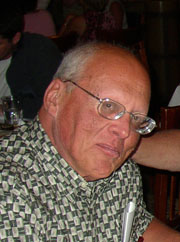 As an alumni board member, Peter Heylin '65 has been active for a few years, but when what he considered to be a big opportunity and obligation arose, did he step up to the plate!
Peter was in the College of Arts & Sciences at Cornell but is probably best known for putting himself through school with his band, which played at various fraternity events. Not as famous as Bobby and the Counts or the Ratchets, his band, the Celestial Dooright Bombers, made lots of Cornellians really rock at those Saturday night do-wops. If one looks back at party pictures of his era, you are bound to find Peter right in the thick of it.
After Cornell, Peter went to the University of Chicago with another brother, Nick Wilder '65, to get an MBA and stay away from the war zone. Upon graduating, he joined E & J Gallo Winery as a brand marketing trainee and was immediately put into sales training to see how the other half lived. Unfortunately, he did such a good job that he got shipped back to Modesto early.
If any of you have ever been there, you will know what that means. Like so many other Gallo employees, Peter thinks that if Gallo were headquartered in San Francisco, he would still be working for them. It was at this point that he first joined the environmental movement as chairman of the Ecology Center in Berkeley.
He then took this talent to General Brewing in a marketing capacity, where he started a corporate ecology program that resulted in nearly all containers being recycled and only one 50-gallon trashcan of garbage per week leaving the plant.
Sometime later Peter moved to Canyon, a redwood forest full of hippies just east of the Oakland-Berkeley Hills. He built his own house (a Steve Bear-style rhombic dodecahedron zome complex) out of recycled materials and started a new life with Linda, his wife of 28 years. His wedding present to her was running water, although that came much later.
Peter and Linda now live in Brookdale, California, near Santa Cruz. Of their three daughters, Jodi practices therapy in San Francisco, Maya is a web designer in Rome, and Tera is in Canyon. Their son, John, just graduated from the University of Washington this past June. Peter is an environmentalist and it clearly shows as he drives up the street in his '66 Pontiac Bonneville convertible pulling a 35-year-old restored Airstream trailer with an anatomically correct mermaid statue mounted on the front. When Peter sends you a letter, it as likely as not is printed on the back of another document. It makes interesting reading at times. He makes full use out of everything.
As his 40th reunion approached, Peter felt that it was long, long overdue to honor his classmate, friend, and brother, Robert Crosby '65, who was killed while serving in Vietnam. For some reason unknown to all of us, no one had been able to deal with it, even in the manner used to honor another brother, Doug Crowe '61. Peter felt compelled to right this wrong.
It was troubling to Peter, and the trek to get it done was both painful and rewarding at the same time. It was painful because such a wonderful guy had his life snuffed out by a horrible accident just days before he was scheduled to come home. It was rewarding because the effort brought many brothers back together from the class of '65 and others who fondly remember Bob as well.
Peter set out on this journey with grand goals and a heart equally large. By any measure, near the journey's end, it was clear that his goals would be realized and his class was one band of brothers again.
Take a look at your website, www.sae-cornell.org, in this "Spotlight on Alumni" area, and you will see the rewards of the efforts by Peter, his committee, and the class of '65. Better yet, visit Hillcrest soon and see the Robert L. Crosby Memorial face-to-face. It is impressive! But the quest and story do not end there. The class of '65 raised a significant amount of funds, which is to be the seed money for the restoration of Hillcrest, a daunting task to say the least, but one that all the members of his class feel is essential.
Peter and Linda have lots of fun, lots of friends, and lots of time to do both silly stuff and meaningful projects, and they would welcome new and old friends anytime to visit and help out. You can contact Peter at pelican2001@sbcglobal.net.
Hal Sieling '62
hds3@cornell.edu