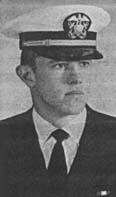 Robert Crosby '65. LTJG Crosby was killed in Vietnam in an accident. His parents gave us his Swift boat flag. The flag, and tribute with his bio, medals, and Washington Vietnam Wall rubbing, are on display at the Cornell NROTC unit until SAE returns to campus.
LTJG Crosby was the commander of PCF (Patrol Craft Fast) 21 in Vietnam. These Swift boats (as they were called) conducted coastal patrols and provided transport and escorts deep into rivers. Fifty feet long, aluminum hulled, with crews of six sailors and one officer, they carried three .50 caliber Browning machine guns, a mortar, grenades and small arms. The PCFs had little armor, relying on speed (25 knots) and firepower.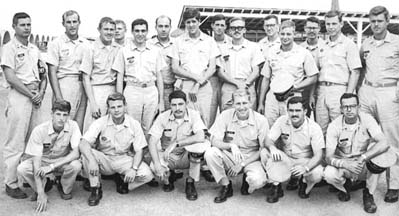 Crosby had Swift boat training at the US Navy Amphibious Base in Coronado, California. In October 1968, he went to Vietnam for a one-year tour in a combat zone, initially aboard PCF 21. On April 12, 1969, this was one of thirteen Swifts transporting South Vietnamese marines and their equipment and supplies up the Rach Duong Keo River. After five of the Swifts unloaded their troops, the remaining eight continued upriver. The Vietcong ambushed the convoy, and Crosby's PCF 21 and another Swift were hit with rockets, mines and other weapons, and engulfed in flames. Nonetheless, Crosby was able to withdraw and return to base, saving his crew.
On September 25, 1969, near the end of his 12-month tour, he was assigned as an instructor for a new crew from Coronado as they prepared for their first Swift mission on PCF 13. Crosby and the new commander were standing in the stern of PCF 13 when Crosby was shot in the stomach by a round accidentally fired from the aft Browning machine gun four feet away. He died the next day at an Army hospital.
Crosby came from South Hamilton on Boston's North Shore, and attended the Lenox School in western Massachusetts. He then went to Cornell University, where he joined the Sigma Alpha Epsilon fraternity. He graduated in 1966 with a bachelor's degree in civil engineering. In the US Navy, Crosby served on the USS Harwood (DD-861), before his Coronado Swift boat training. While in Vietnam, he had been accepted in the Cornell Masters in Engineering program, and he had planned to return to his alma mater after his discharge from the Navy.
Crosby was loved and respected by all who knew him: his teachers and fellow students at Lenox, his ΣΑΕ fraternity brothers at Cornell, and the Swift boat community in Vietnam. He is acknowledged and praised in several books: Tour of Duty, by historian David Brinkley; My Father, My Son, by Admiral Elmo Zumwalt; and Every Day Is Extra, by Senator and Secretary of State John Kerry. The PCF 21 flag was given to his parents, who in turn gave it to Sigma Alpha Epsilon. The above rubbing shows Crosby's name as it appears on the Vietnam Memorial Wall in Washington.