By Hal Sieling '62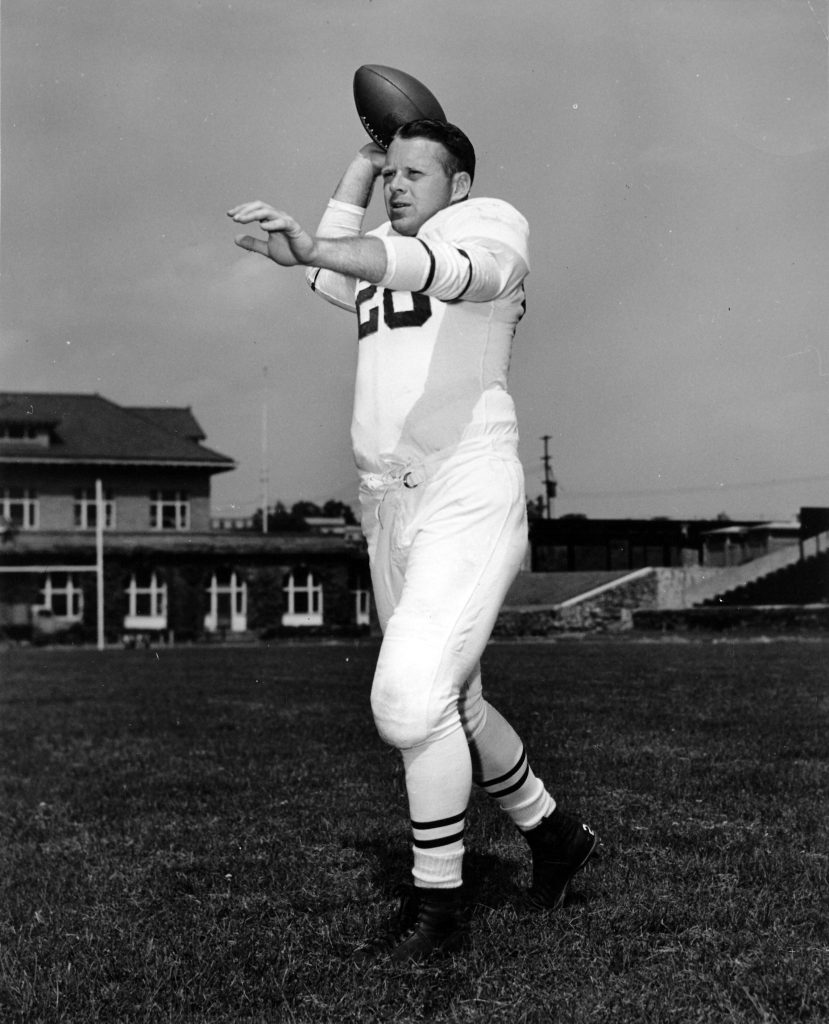 "On this day when the sun shines bright and the hills are beautiful with their autumn foliage," we regret to inform you of the loss of our friend, brother, and leader, Bob Dean. To Cornell, Sigma Alpha Epsilon, and his friends, there was no finer man. When he was a young man, he excelled in football and brought many a cheer from the home crowd with his play. In business, he excelled by building a strong team. For those of us who knew him as a chapter adviser, he was a leader and a True Gentleman of his fraternity. He established the foundation for success of our beloved NY Alpha at a time when few thought it was possible to survive. No one did more to build the future of SAE at Cornell than Bob did, and his influence will never be forgotten.
In the late '70s and early '80s, Bob bailed out the house more than one time with financial help. He also developed a plan that would ensure continued success for SAE at Cornell. More importantly, he sold that plan to the CU administration at a time when they had little interest. Out of these negotiations came an unprecedented agreement: a three-way relationship between the active brotherhood, the alumni association, and Cornell that set the framework for a partnership that has endured to this day.
Bob was a gentle and gracious man, but also a determined one. He knew that his plan would work and would not give up, no matter the obstacles, until he got buy-ins from everyone. When he finished his job, he walked away and left a far better place for others to manage. That was how Bob operated.
It is fitting that Bob passed away on the very day he must have enjoyed the most: Homecoming at Cornell University.
"Bob was an extremely important person in the history of SAE and Hillcrest. I am glad we honored him when we did with the first True Gentleman award. He was truly touched by the award and expressed a strong emotional connection to SAE that day. There would be no NY Alpha chapter today without Bob Dean."
— Mike Slusar '86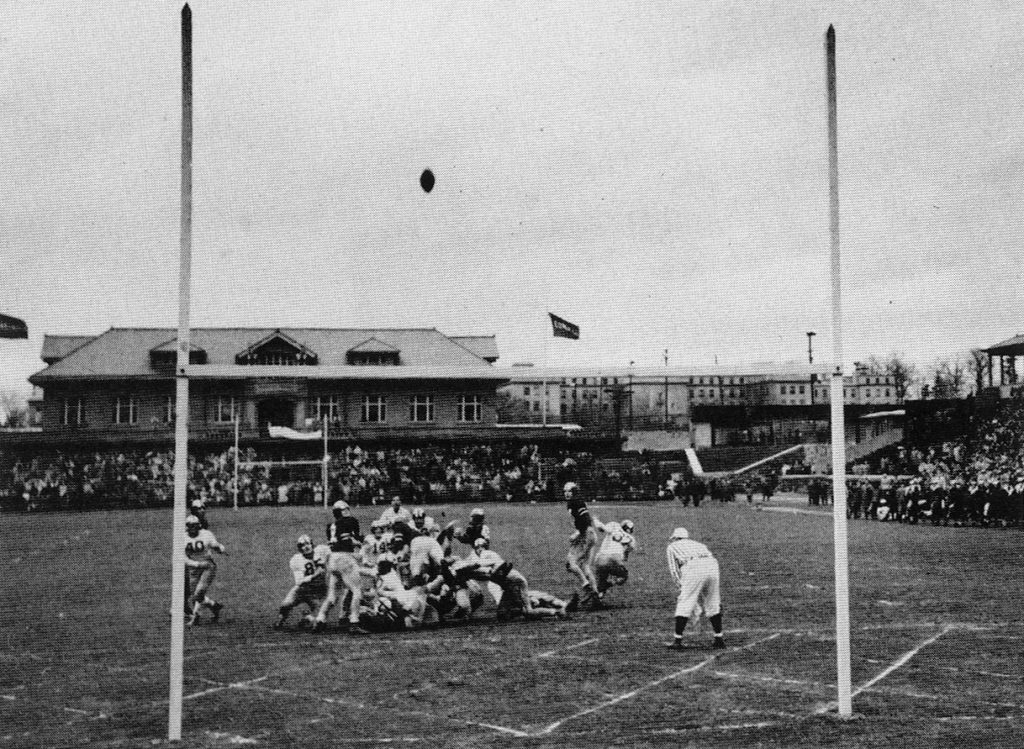 Obituary for Robert T. Dean
Robert (Bob) T. Dean died peacefully Saturday evening, September 25, 2010, comforted by the presence of family. Born April 10, 1923 in Rensselaer, Indiana, Bob's early childhood was graced with the academic values of his father, a high-school principal, and the religious convictions of his mother, the daughter of a Presbyterian minister. Family values of individual responsibility, honesty, hard work, and community service blended naturally with Bob's outgoing and optimistic nature. The glass was always half full in his eyes. A love of physical activity and the outdoors propelled him into the family sport of golf, adding football and basketball during his teen years and skiing as a young adult. Bob graduated from high school in Bloomington, Indiana and went on to start his freshman year at Indiana University where he met his future wife, Maxine, in freshman English. World War II redirected Bob after that first year. He enlisted in the Air Force, spending time with bombardier training and continuing to play football with the military league. This led to his decision after the war to enroll at Cornell University. There he studied electrical engineering and played football with the Big Red during the winning years when the crescent was full, establishing records for kicking and the longest play from scrimmage. He was the Sun's athlete of the year in 1949 and admitted into the CU Hall of Fame in September 1986. It took very little to convince Bob to stay in the Ithaca area after graduating from Cornell in 1949. There were employment opportunities, many good friends and a quality of life in Ithaca that was perfect for a young family. Bob joined a local electronic distributorship before founding Bob Dean lnc., an electronic manufacturer's rep business and then Deanco, an electronics distributor which ultimately expanded to Boston, Maryland, Florida, and Chicago. Bob's optimistic view of people and their potential, along with his willingness to set up Deanco with an employee-shared ownership program, enabled this amazing growth. Community involvement was a natural extension of Bob's business and personal life. He was actively involved as an alumni with SAE, Village of Cayuga Heights trustee, trustee and past board chairman at First Presbyterian, active in Cornell Council, on the boards of Country Club and TCTC, and director and member of several trade groups. Bob's later years continued to be active; skiing and playing golf into his eighties, nurturing a large circle of friends, engaging his grandchildren on the lake and slopes while optimistically embracing new opportunities and supporting local business efforts. He was a loving and generous man who will be greatly missed. Bob is survived by his wife, Maxine, together since 1945; children, Jeff (Barbara Claas) Dean, Diane (Don) Carpenter, Debra (Alan) Ledet, Doug (Sue) Dean; grandchildren, Ryan, Dustin, Kelly, Kasey, Marissa, Kendal, Karen, Kali, and Jenna; sister-in-law, Betty; nephews, Ross, Richard, Robert, and Randal Dean and their families; and many friends. Preceded in death by his only sibling and mentor, Ross H. Dean. A memorial and celebration of a life well lived will be held Sunday, October 10, 2010, at 3 p.m. at the First Presbyterian Church in Ithaca. The family invites you to join them for a reception immediately following in the church fellowship hall. In lieu of flowers, please remember Bob in a way of your choosing.
A Profile on Bob Dean
From the New York Alpha News, Spring 2004
Robert T. Dean graduated from the College of Engineering with a degree in electrical engineering in '49. He was also an outstanding football player and was inducted into the Cornell Athletic Hall of Fame in 1986. Bob is also a successful businessman and established Deanco, a limited line technical distributor in 1964. This June, he will celebrate his 55th reunion.
Bob has also been involved in various civic activities including being a trustee of the Village of Cayuga Heights and past board chairman of the Presbyterian Church.
He has also worked with the United Fund, was a board member of the Country Club of Ithaca, and has been involved in various local, state, and national organizations related to his business. By virtue of being a past chapter adviser, he is also a member of the New York Alpha alumni board.
Bob and his wife, Maxine (Indiana '45), live on the east shore of Cayuga Lake. They have four children, two of whom received degrees from Cornell University.
In football Bob excelled. He lettered in '46, '47, and '48 as a back, punter, and kicker. He won many games for the Big Red with his last-minute heroics. He set Cornell's all-time record for long plays, passing for a TD in a game with a 98-yard TD pass versus Navy in '47. That record still stands. He was named Cornell Sun Athlete of the Year for 1948-49.
What every New York Alpha brother should remember brother Dean for, however, was not played out on the football field. His unparalleled dedication and commitment to SAE in the late '70s and early '80s as chapter adviser were critical to our survival as a fraternity. Others gave up, but not Bob. The house was a mess both physically and financially and without help was sure to go under.
Bob personally shelled out money for repairs and operating capital. He worked tirelessly with the university on a plan to transfer ownership of Hillcrest to Cornell as a means of saving SAE and our rights to occupy Hillcrest. The result of his focused effort was the '85 agreement, which, to this day, serves as the operating platform between Cornell University, the active brothers in the chapter, and your alumni board.
Thank you, Bob, for all you did. You are a very special brother, The True Gentleman.