By Kevin Merriman '88 and Jasper Schaible '89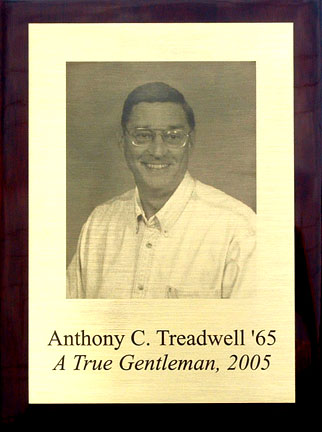 To understand Tony Treadwell's contribution to the chapter, it is critical to reflect not only on the activities he conducted, but also on the times in which he accomplished them. The late seventies and early eighties were a tough era for the Greek system. Several houses were failing and it seemed that few cared.
During this period, Hillcrest's financial status was grave. In a desperate attempt to save the chapter, several brothers, led by Brother Bob Dean (True Gentleman Award recipient 2004), negotiated the 1985 Agreement, which governs our relationship with the university to this day. The agreement provided a reprieve from pending insolvency, but did not ensure Hillcrest's future. Indeed, the agreement required involvement by both the active brotherhood and alumni association-and the extent to which we were to meet our obligations and begin to re-build was as yet unknown.
It was at this point, in 1984, that Tony began his service as chapter adviser.
By way of background, Tony is known by his friends and classmates as a guy who worked hard and played harder. "A solid guy" who got along well with everyone in what has been described as "a close but diverse house."
Peter Heylin '65 remembers Tony as "studious–at least when they weren't playing Photoelectric Football." Tony was also active in house politics, rising to the office of Eminent Archon in the spring of '65.
Nearing graduation, Tony paused for a period of personal reflection in what he calls his "Travels with Charlie," a reference to a similar trip taken by author John Steinbeck. At the time, his absence from Hillcrest was no small mystery to the brothers. To all, it seemed he just vanished. Tony traveled and took a series of odd jobs working his way across the Midwest.
But with the conflict heating up in Vietnam, and now no longer enrolled in a degree program, Uncle Sam offered to assist Tony in finding himself. Drafted into the Army, but his volunteer offer to serve in Vietnam turned down, he served stateside until he received an early discharge to return to Cornell to finish his BA and get his MBA. It seems that this personal reflection worked-in 1971 Tony graduated summa cum laude from Cornell's Johnson School of Business.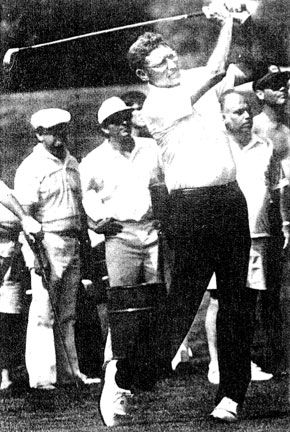 After graduation, Tony took a series of jobs–in Ohio working in the energy industry, and then in Illinois with Belson Steel. But it was in 1984 that he had a chance to return to Ithaca working for Wallace Industries in the $20 billion metal recycling industry. It was about that time the he met his wife Nancy — on a blind date — and realized they shared many interests. They were both avid golfers and lovers of classical music. And Nancy claims she had one skill that really won him over – "I laughed at all his jokes-even the ones I've heard more than once."
It was about this time that the VP of Campus Affairs, Bill Gurovitz conspired with the actives to enlist Tony as the chapter adviser. And in this role he served with distinction from 1984 to 1993. Tony is particularly remembered for his consultative, mentoring style. Jake Schaible '89 attests that Tony was always available, ready to offer calm and thoughtful advice but never overbearing. He comments, "It was obvious that Tony derived a great deal of satisfaction from his mentoring role. He saw himself as there to guide and support – not to force his opinions on others, and that made quite an impression on me." Lance Peters ('89) recalls long visits to Tony's Ithaca office at Wallace Industries to discuss house issues.
His most important contribution was his insistence that actives understand their obligations for future service, which he himself established by example. The best evidence of his profound influence is the current make-up of the board-most of whom were actives during his tenure, and whose example we all follow. Take a look around Tony-we're here because of you.
Tony served with distinction until he was lured away by another love — golf. As he was turning 50, he followed his dream to be a pro golfer and moved to Florida to qualify for the Senior PGA Tour. A scratch golfer before, he improved over the qualifying rounds to a handicap of 2 to 6 under par. Though he never qualified, as they say in golf, "never up, never in."
Tony returned to the metal recycling industry without any regrets. Nancy says the experience taught them a lot about golf, business, and life. Tony is currently the VP of Finance & Administration and CFO of Consolidated Scrap Resources. Tony and his wife Nancy live in York, Pennsylvania. Tony is indeed a True Gentleman.